| | |
| --- | --- |
| Shroud of the Avatar Trusted Trader: | |

Shroud of the Avatar Trusted Trader
Markee Dragon Game Codes is a business partner and Trusted Trader with Portalarium. You can make purchases from us with confidence!

---
Items listed here in this category are no longer available directly from Portalarium or have been acquired from other players and can be transferred to your ownership.
All deliveries that require meeting in game will be made at the Brittney Central Bank. If delivery needs to be made at a different location for things such as placed property we will meet you at the bank or banker in that town.
Feel free to email us with any pre purchase questions. We will be happy to answer anything you wish to know.
---
Do you have an account or items to sell? Contact us. Let us know what you have . Please provide any details you can and we will give you a quote.
Check out our "Want To Buy" items list here!
---

---

TT Featured and Popular Listings:
---
TT Shroud of the Avatar Player Owned Town - Reeds Glen

Direct Email Delivery!

Now is your chance to stake your claim in New Brittania!

This listing is for a "Town Size" Player Owned Town with Overland access, located just North East of Aerie.
The name of the town is "Reeds Glen", and comes with all devotionals, NPC vendors, and NPC buildings.

Player owned towns are no longer available to purchase through Portalarium, and can only be traded from other players.
Towns like this dont come on the market very often, Act now and start painting your dream town on this beautiful blank canvas.

Upon purchase, for ease of transfer you will receive login information for the account that owns the town. From here you can use this account and character as a management account, or choose to transfer the town to an account of your choosing.

Dont miss this rare opportunity to be Governer of your very own land in SotA !!

Price:

$3,999.00

,

In Stock
TT Shroud of the Avatar Golden Clockwork Armor
Kobold tinkerers are always seeking ways to improve everything and now they have made their own Golden Clockwork version of a Plate Armor that has clockwork assisted movement to offset the weight. Unfortunately the gears themselves also weigh a lot so it turns out the benefit is nullified. However, Outlanders who saw the armor loved the look and asked the Kobold tinkers to keep making it, if only for the looks. The helmet has a built-in Aether Vibration Device so you can tune into your favorite radio stations.

The armor consists of the following pieces:
Golden Clockwork Armor Boots
Golden Clockwork Armor Chestpiece
Golden Clockwork Armor Gauntlets
Golden Clockwork Armor Helm
Golden Clockwork Armor Leggings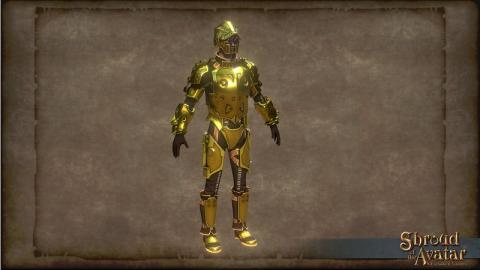 Price:

$119.00

,

In Stock
TT Shroud of the Avatar - Royal Orb
Help out a friend with this Royal Orb, included in the Lord Pledge rewards. The Royal Orb grants the player the ability to reduce the rent of any vendor by 50% for one month. This item can only be used once per month.

Price:

$59.00

,

In Stock
---

SotA TT Items Redemption Process:
Deliveries will be made via the In game Mail system.
You will first receive an email from us to confirm your character's In Game Name.
After confirming the receiving character, you will be sent an in game mail containing your purchase from our store character. The Title of the mail will include your purchase Reference Number.
You can collect your purchase at any bank mailbox, or a personally owned mailbox in game.
Trial Users Please Note: Purchased Add-On items cannot be accessed after the Free Trial Test Period is over unless you purchase Game Access.
If you have any questions please feel free to contact us at support@markeedragon.com
-- Listings Below This Point are Out of Stock --
---
---
TT Shroud of the Avatar Lord British and Darkstarr Skull Set
This listing is for a set of perhaps some of the most rare, and collectable items available in the game.

These skulls once belonged to the notable Lord British, and infamous Darkstarr! And now they can belong to you!

Be one of the very few to own a piece of these two legends... Quite Literally!

Price:

$499.00

,

Out of Stock
TT Shroud of the Avatar 250k In-Game Gold
Gold!! This is the stuff that makes the world go 'round!

Take a shortcut to affording that special something you've been staring at through the shop windows, with 250k In-Game Gold! (Two hundred fifty thousand)

Price:

$17.50

,

Out of Stock
TT Shroud of the Avatar 500k In-Game Gold
Gold!! This is the stuff that makes the world go 'round!

Take a shortcut to affording that special something you've been staring at through the shop windows, with 500k In-Game Gold! (Five hundred thousand)

Price:

$35.00

,

Out of Stock
TT Shroud of the Avatar 1 Million In-Game Gold

Don't spend it all in one place!.. Or do, Who cares! You have a Million Gold!! The world is your oyster with 1 Million In-Game gold to burn a hole in your pocket!

Price:

$70.00

,

Out of Stock
TT Shroud of the Avatar - Royal Scepter
Help out a friend with this Royal Scepter, included in the Lord Pledge rewards. The Royal Scepter grants the player the ability to reduce the rent of any lot deed by 50% for one month. This item can only be used once per month.

Price:

$279.00

,

Out of Stock