This is a Tax Free POT Keep Lot Deed.
The Tax Free POT Keep LOT Property Deed can be used to claim a land-based Keep Lot (or smaller) lot in Player Owned Towns. Keep lots measure 80 x 60 meters which makes them twice the size of a City lot.
The Keep Lot allots you to place:
| | | | |
| --- | --- | --- | --- |
| Internal Lights | 290 | External Lights | 20 |
| Internal Containers | 165 | External Containers | 55 |
| Internal Objects | 2150 | External Objects | 1750 |
There are many benefits to being a property owner in SotA, including:
Having a permanent residence, a place to put down roots, to hang your helmet, to decorate to your taste, to invite your friends over to hang out.
Provides a location for you to have a vendor to sell your wares.
Provides a location to set up private crafting stations, saving you the trouble of visiting public crafting stations to produce your wares.
Plant your own gardens to grow whatever you need.
Dramatically increases your storage space. Your house can be filled with decorations, and you can place chests at your house to expand your player inventory.
* Note: Home pictured is NOT included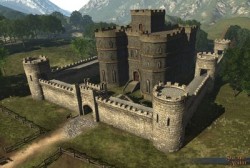 SKU:
4336
Price: $1,300.00
Out of Stock
Please let us know the name of the character to deliver this to:
Customer Reviews
Add your review here
You have to be logged in to post a review.